Pilgrimage Journey to Nepal
17th – 30th September 2018
With Alex d'Artois & Sisse Budolfsen
The Pilgrimage Journey in a Nutshell
This pilgrimage to Nepal will begin at the the beautiful monastery Neydo Monastery in the area called Pharping, located in the South Western hills of the Kathmandu Valley. We stay in this serene buddha field of Guru Rinpoche during our first days of the pilgrimage, surrounded by pine trees and rice fields, with big views overlooking the Kathmandu Valley. After settling into the group and going deeper into Buddhist Philosophy and meditation practice, we venture onto Boudha for a day, followed by days spent at the Namo Buddha Resort, located in the South Eastern corner of the Kathmandu Valley. Another sacred area where yogis have practiced for centuries. It is said that the Buddha gave his body to a starving tigress in this place and is considered one of the most sacred pilgrimage sites in Nepal.
We continue our pilgrimage journey into the foothills of the Himalayas. We leave in the morning from the Namo Buddha Resort and go by jeep on a beautiful ride up through Central West Nepal where we drive along the Trisuli river and lush landscapes. The roads are a lot better now compared to past years but we can prepare ourselves for an adventurous journey. By evening time we reach the town of Phablu, located in the lower Everest region.
We use Phablu as our base for the first few nights as we go on a ones day hike up to Chiwang Monastery, located on the hillside, overlooking the valley below. The next morning we hike up through the valley to the nunnery Thubten Choling located on a hilltop, nestled into pine tree forests and prayer flags. Here we spend two full days, taking part in the lives of the nuns, before returning to Phablu. If weather permits, we will get a glimpse of the majestic Himalayas from Phablu. The following day, we travel back toward Kathmandu Valley by flight if weather permits. As a plan B we will go by jeep. The meditation and Buddhist philosophy themes will be weaved into our days, both in Kathmandu Valley as well as in the foothills, as we embark on an inner and outer journey through Nepal.
Introducing the Facilitators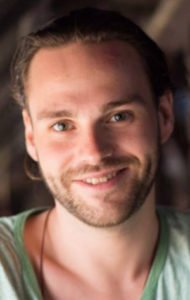 Sisse Budolfsen and Alex d'Artois will be the instructors and guides on this Pilgrimage Journey to Nepal. For more information on Sisse & Alex, please go here.

Daily Schedule
8:00 – 8:30 Meditation
9:00 – 10:00 Breakfast
10:30 – 12:00 Morning session on Tibetan Buddhism & Meditation Practice
1:00 – 2:00 Lunch
2:00 – 3:30 Free time
3:30 – 5:30 Visiting sacred places
7:00 – 8:00 Dinner
8:15 – 8:45 Evening meditation
Info on Meditation
There is no prerequisite for joining the pilgrimage, or to have in-depth knowledge or experience with the practice of meditation.  Simply, to have the wish to go deeper with one's mind, and to have curiosity regarding its functions is enough. There is nothing religious about the practice of meditation, or to visit sacred places and shrines. In fact, there is nothing even Buddhist about it. The practice of meditation is simply a tool to bring your mind back to a place of naked awareness, to a place of basic space with yourself. In fact, it is simply put a technique with which to uncover all the layers of hope and fear, grasping and expectations that are all such strong habits of the mind.  With the practice of meditation we can learn to come back to ourselves, and to become familiar with the groundless and raw quality of reality.